"My favorite part was the STEAMROLLERS!"
Of course it was. How could it have been anything else?
Every year, The San Francisco Center for the Book puts on this terrific, free event. It is part fundraiser (through the sale of the steamroller prints), part education, and part hands-on fun. For some unfathomable reason, this is the first year we have ever attended.
My favorite part was the entire event. There are few things I enjoy more than fonts, hand lettering, or enormous, heavy, mechanical tools that look like they could kill you but, in their highest and best use, make beautiful things. I'm in awe of the people who can use them and of the works they create.
And Wyatt is right. The steamroller printer was pretty amazing. As he remarked as we were walking up, the whole street smelled as if people had been lighting sparklers all morning. So festive! We arrived early, and Wyatt got as close as he possibly could to the steamrollers. One of the drivers let him throw coal into the fire. If you want to see a steamroller making the first print of the day, I posted a video of it here.
Outside on Rhode Island Street, there were printing tables, artists, vendors, and examples of all the steamroller prints you could purchase.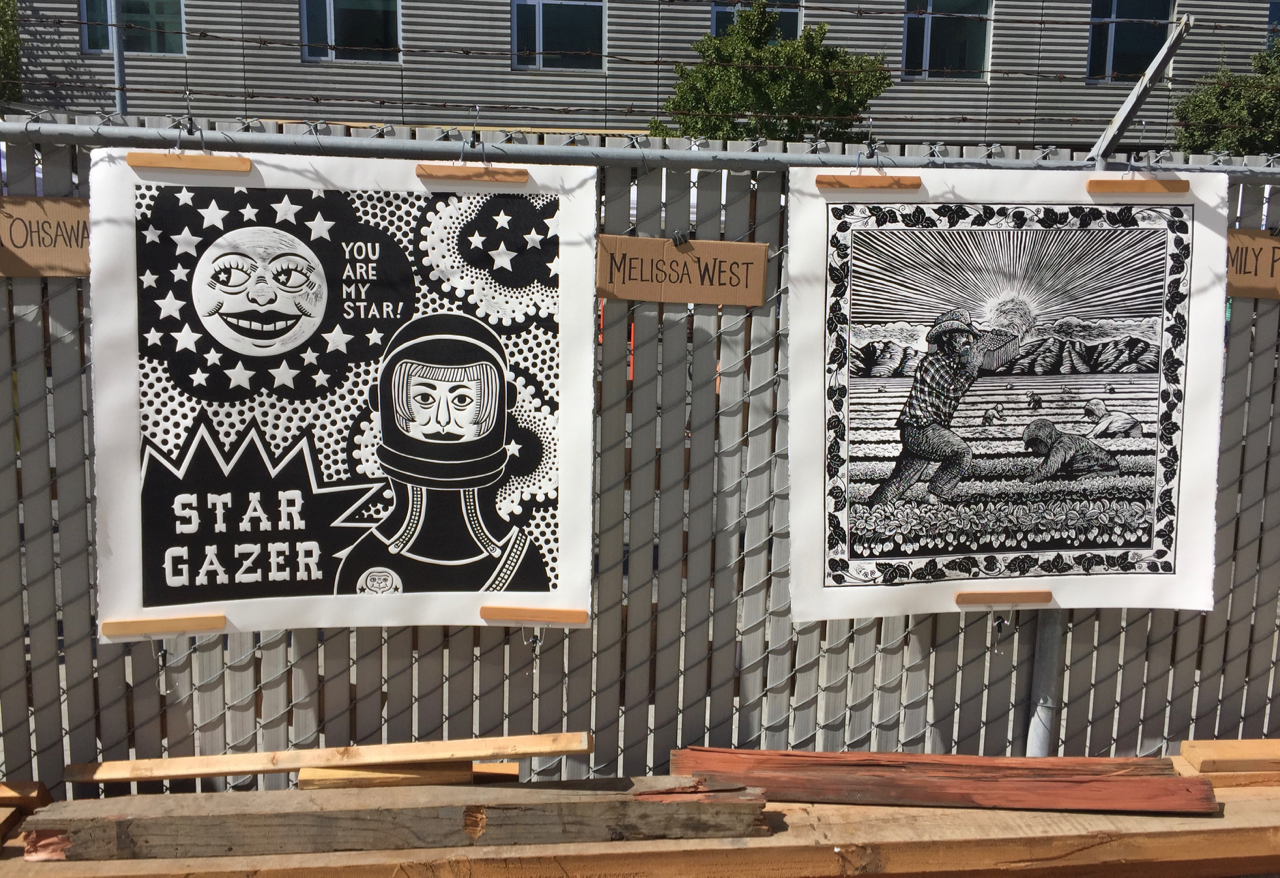 The Rhinoceros Project, a "participatory watermark sewing circle," was also set up outside. As the creators explain on their website,
We will produce [our watermark of Albrecht Durer's 1515 woodblock "The Rhinoceros"] through hand sewing on silk. Using embroidery stitches on fabric, we will recreate Durer's Rhinoceros line-by-line, enlarged to life size. In order to achieve this goal, we are embarking on a series of participatory sewing circles, taking place at San Francisco locations such as Ramon's Tailor and the San Francisco Center for the Book. When complete, the watermark will be stretched on a frame, and paper pulp will be poured into the frame to create our Rhinoceros watermark in handmade paper. We aim to make a total of three, referencing the remaining three Northern White rhinoceri.
I participated, naturally. My little line of sewing is the very tidy one. The part I liked best about this project is that some people sat down, watched, and then said, "I want to help, but I don't know how to do it!" and the project creators taught anyone who was interested how to embroider the lines of the enormous rhinoceros.
Inside The Center for the Book, there were volunteers helping people make prints on all kinds of machines, other volunteers explaining what the various machines did, and a book petting zoo.
Marc, Wyatt and I left wanting to learn how to physically make a book using all of the tools we saw. But one of us isn't yet old enough to take a class at The Center for the Book. Fortunately, we learned we can visit more machines at The American Bookbinding Museum downtown. Yet another gem I never knew existed. I love San Francisco.