What to be for Halloween is such an important question in our house. Wyatt starts planning his costume early. And by early, I mean November 1. I remember driving Wyatt to school one day last year in early November, and he had a list of about seven different Halloween costumes he wanted to wear, in order: "Next year, I want to be a polar bear, and the year after that, a duck, and the year after that, a kitty cat..."
His polar bear plan lasted a few months, but after sitting down with my book, Animal Hats To Knit And Show Off, he changed his mind. And that change stuck. Just like last year, Wyatt had fully committed to his Halloween costume by early June. And just like last year, I knit his hat during the summer but waited to work on his suit until September.
This time of year, I think back to the hours I used to spend as a kid dreaming up and crafting costumes out of fabric and trim remnants. Hot glue, pins, and stitching--we used it all in a flurry of activity.
And this is the perfect time of year to look back at old Halloween photos. We have four years of Halloween photos, because Marc and I never dressed-up before Wyatt was born. We are unusual for adults in San Francisco. Anyway, I think we may have peaked early as a family on Wyatt's first Halloween. All three of us dressed up that year, and only that year. I was the beehive, Marc was the beekeeper, and Wyatt was, of course, the bee. I ordered my wig, Marc's t-shirt, the netting for his hat, and Wyatt's costume online. I made our tiny bees out of pipe cleaners.
For Wyatt's second Halloween, he was a Great Horned Owl. I ordered his costume on Etsy, and it was ingenious. The base of the costume was a hoodie, so it was super easy to wear and very comfortable. The crafter had affixed a variety of felt and actual feathers all over the sweatshirt, very much like a great horned owl. I ordered a pair of matching sweatpants from Kohl's (the source of the costume's hoodie), and Wyatt was good to go.
By the fall of 2013, I had found my crafting mojo. Wyatt wanted to be a dragon, and I accepted the challenge. I modified a pattern for a crocheted crocodile hat, adding claws and ears. I also sewed wings from one of Marc's old shirts and the fabric of the skirt of the bridesmaid dress I wore for my sister's wedding. Finally, I sewed Wyatt a green fleece sweatsuit--his dragon suit. Wyatt made a truly splendid dragon. He still wears the hat and wings, but much to his dismay, he outgrew his dragon suit awhile ago.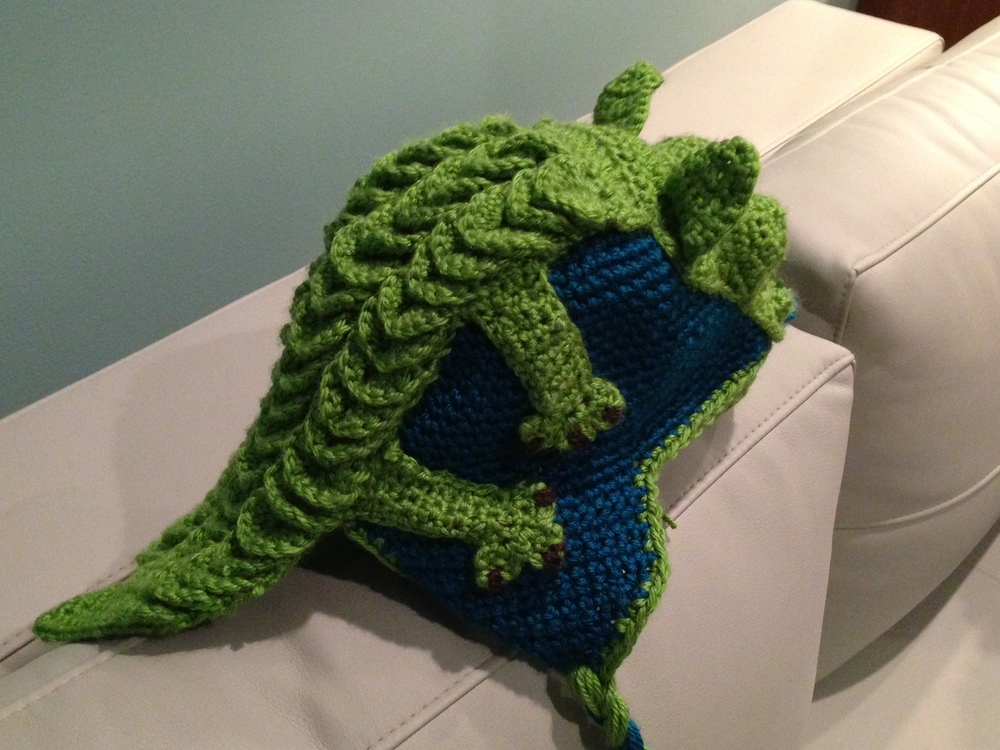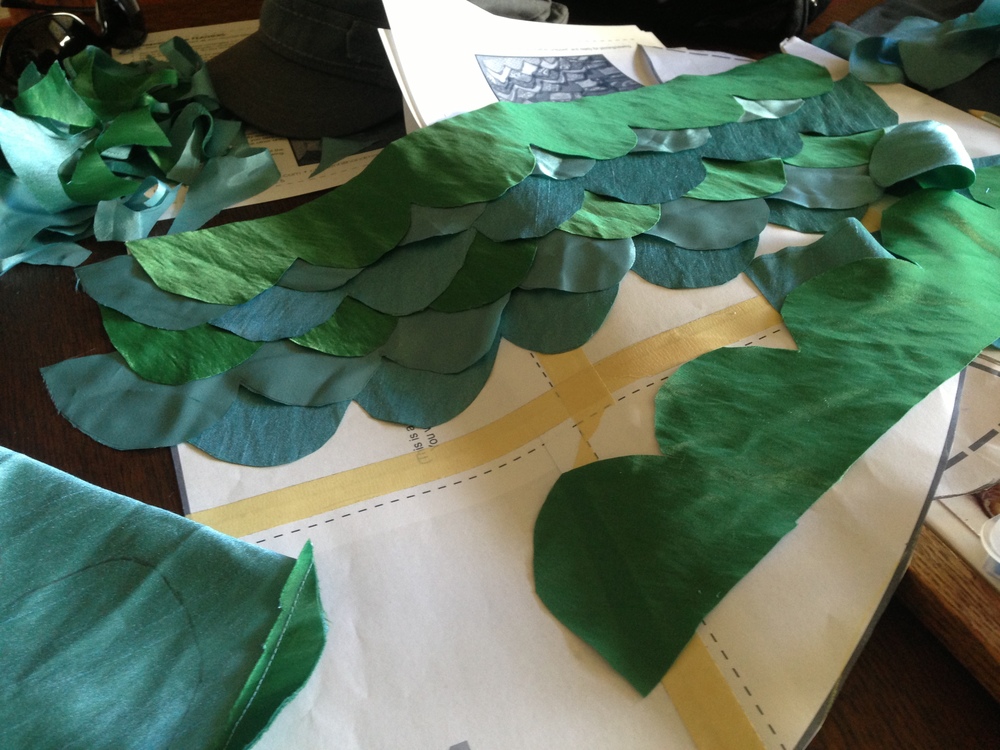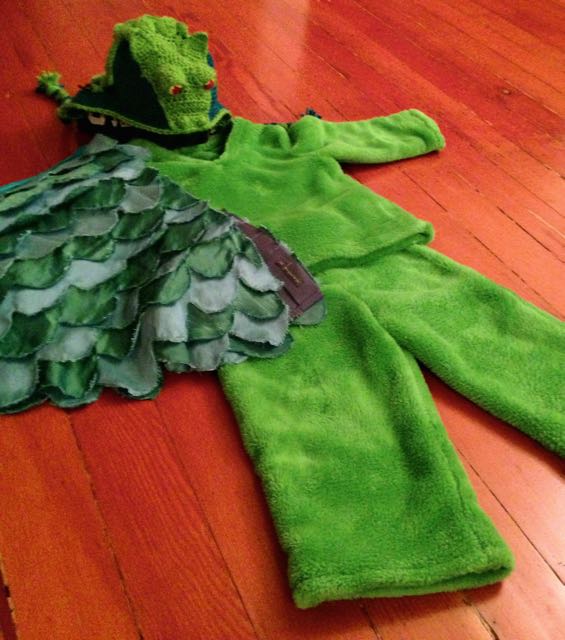 Last year, Wyatt wanted to be a lion. That was pretty easy compared to the dragon. I made his hat from the pattern in the Animal Hats book, with Malabrigo Rasta yarn in Coronilla that I bought at Imagiknit. As I mentioned earlier, I finished the hat in June, but waited until September to make his "lion suit," which ended up being a purple fleece sweatsuit. I used the same pattern that I had used for the dragon suit, but I made a bigger size. As you can see by the photo below, the lion costume lends itself to accessorizing. Wyatt continues to use and wear his costume regularly.
In fact, my favorite part about the costumes that I have made is that Wyatt still loves wearing some portion of them. Hats and wings are a great way for him to dress-up and pretend, and the dragon and lion suits have been super cozy to wear after swimming lessons.
This year's costume is finally finished and drying next to me on the floor, because like a good knitter, I wet blocked it last night. Wyatt is not at all happy that it is still wet. He'd rather be wearing it everywhere. Next week, I will share the rest of the story about this year's costume. If you're dying for a sneak peek, I have posted some "Work In Progress" photos on Instagram.