"Mom. I'm hiding my eyes because when I look at that gooey food on my plate, it makes my body feel weird."
I wasn't planning to write a post about our Thanksgiving. But on Wednesday, a lovely friend of mine texted that she was looking forward to reading about what we had for Thanksgiving dinner. I thought to myself, why not write about it? It was going to be an amazing meal; I had already spent hours working on it.
For years, our traditional Thanksgiving meal has centered around Dungeness crab. But this year, crabbing season has been postponed because "potentially deadly levels of domoic acid have been found in Dungeness crab." We needed a new plan, and we decided to go with Winter Vegetable Pie from the Fields Of Greens Cookbook. I had never made the recipe before, but it was the reason for adding the cookbook to my Christmas wish list last year. A vegetarian foodie friend had told me that this time-intensive pot pie was the ultimate in delicious, vegetarian comfort food. The recipe suggests that a salad of bitter greens, pears and walnuts is great with it, so I planned to make that salad. I decided we should also make some gluten-free sourdough bread to eat with our homemade cultured maple butter. And Wyatt requested crème brûlée for dessert because "we always have that." I think we may have only had it last Thanksgiving, but who was I to argue where a cooking torch was involved.
On Tuesday, I spent the entire day cooking while Wyatt played astronaut (and other wonderfully imaginative games that I don't recall) at the other end of the kitchen. I began by making crème brûlée. Next, I simmered mushrooms and other vegetables into stock for over three hours. Finally, I made the dough of my first ever gluten-free pie crust.
On Wednesday, we took a break from cooking and went to the Exploratorium.
Thursday morning arrived, and it was time to bake and cook again. Wyatt and I started the bread on its final rise around 7:30 before I headed out for a class at the gym.
When I got home from the gym, I found Marc and Wyatt just hanging out, and I felt myself getting really annoyed. With just the three of us having Thanksgiving together, it felt like a regular weekend day, only with a whole lot more preparation and cooking than I wanted to do. But instead of expressing those thoughts directly, I demanded that we clean up our messy house. Marc, suddenly irritated himself, pressed me as to why I was "leveling edicts" about tidying-up when no guests were coming over. I am pretty sure I responded that I had been planning for days and cooking for hours, and I would really prefer that today, Thanksgiving, which he didn't seem to care much about, be different from all the other days when I plan and cook all by myself and we eat surrounded by clutter. I like to imagine the wonderfully evolved adult I would be if I had said all of that in a calm, eloquent and loving way. But as the person I am today, I remain grateful to Marc for quickly understanding my point of view, forgiving me for "leveling edicts" before explaining where I was coming from, and immediately getting on-task after our discussion.
I baked the bread while we ate a light lunch, and after lunch, it was time to start cooking the pie. I assembled the many vegetables we had gotten from our farm share box, the additional vegetables I had bought from Rainbow Grocery, as well as herbs and one little carrot from our garden. I then realized I had miscalculated how many pounds of mushrooms we needed, and Marc dashed out to the supermarket to get some more.
I started rolling the pie crust.
Next, Wyatt and I started chopping. Soon, Marc returned with more mushrooms and joined the prep party.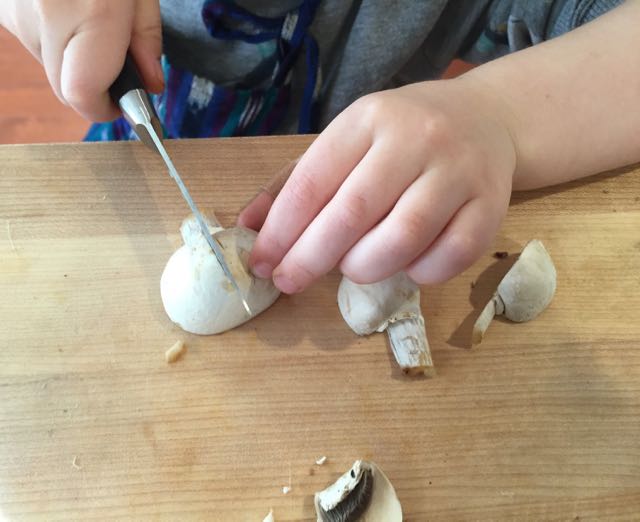 I made an actual gravy out of a roux of homemade mushroom stock and gluten-free flour. I could hardly believe the gravy worked, never mind its hearty flavor and smooth texture. I assembled the pie, and while it baked, we enjoyed cocktails, washed the various salad greens, burned the walnuts, substituted sliced almonds, and crumbled some bleu cheese into the salad. When the pie was finished baking, our dinner looked like this.
When the pie was cut, our dinner looked like this.
And the verdict? Well, our 10-hour Winter Vegetable Pie was met with mixed reviews. Marc thought it was fantastic. I thought it was fine, but I was expecting something more amazing for the time spent on it. Wyatt hated it. I hadn't realized until we sat down to dinner and he said, "looking at that gooey food makes my body feel weird" that we never, ever cook gravy or classic American comfort food. Wyatt never got past the gooey brown factor. Instead, he ate bread with maple butter, some salad, and he asked every three minutes whether it was time for crème brûlée yet.
The crème brûlée was perfect, thank goodness.
And even though Wyatt didn't say it, it was pretty obvious that he was grateful we had stuck with tradition for dessert.